ALEXANDER

Family Events
Family
Surname Index
About Us
Contact Us
Web Links
Home

Alexander.Net






The Family
of
Albert C. Alexander
and
Daisy Ann Maddux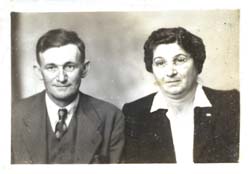 Albert C. Alexander, my Grandfather, was born June 15, 1891, in Tennessee. Daisy Ann Maddux, my Grandmother, was born May 27, 1892 in Bloomington Springs, TN. They were married on November 1, 1914.

They had four sons, Robert C. Alexander, Harry Cordell Alexander, Howard Nelson Alexander, and Paul Leamon Alexander. All four served overseas in World War II. Robert served in the Army Air Corps in England. Harry served in the Army in the Pacific Theater. Howard served in the Army Air Corps and flew on B-17's based in Horham, England. Paul served in the Navy on a hospital ship. He went to Nagasaki, Japan to aid survivors a few short days after the atomic bomb was dropped.

Family History

Grandfather worked at Ward's Mill in the early 1900's. At that time the mill produced lumber, axe handles, and other products and shipped them all over the country and even overseas. They shipped them via the Tennessee Central Railway. The Tennessee Central Railway, like most other small railroads, came under hard times. It went bankrupt and was reorganized as the Tennessee Central Railroad. It was later bought by the Louisville and Nashville. When they demolished the Baxter Depot, Bill Wheeler, a neighbor, was working on the demolition team. He found a Tennessee Central Railroad Company shipping order form which my Grandfather had signed on October 19, 1911, while working at the sawmill (at one time, I believe that the name was the Baxter Lumber and Handle Company). Bill brought the form and gave it to my father, Howard Alexander.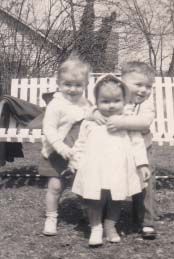 We all met at Granny and Grampa's on Sunday after church for Sunday dinner (the noon meal). Granny was a great cook and she always cooked more than enough for the family as someone else might show up. She was used to that as when Dad and his brothers were growing up, regularly friends and visitors would show up to eat. Ralph Bradford, a friend of the brothers, grew up and worked with them so much that some people thought that he was an Alexander! I was at a funeral of a friend and was talking to a friend of Dad's. This was after Dad and all of his brothers had passed away. I mentioned Uncle Harry, and this friend said that he didn't remember Harry, but he knew Dad, Robert, Paul and Ralph! Harry had moved to the Nashville area before Randy, his son, was born. He and Aunt Julia raised their family there.

Dad and Grandfather started the A. C. and H. N. Alexander Grocery in 1954. I grew up working in the grocery store. It was a great experience. Of course there were things that I didn't like but overall it was great. Our customers, some of which you can find in the Friends section, were great friends and many came to be just like family. Unfortunately, we can't name them all as we would inadvertently leave some out and we have pictures of just a few. But know, if you were one of them, you are still close to us in our hearts.

Family Events

Today, the family celebrates two events each year. The first started out as the Fourth of July Picnic. We usually went to Center Hill Lake and cooked the traditional 4th meal, hamburgers and hot dogs. We moved this to the Edgar Evins park after it was built. The date was later changed to the first Saturday in June. This corresponds with the Decoration at Odd Fellows Cemetery where the Alexander family plot is located. Later, the location of the picnic was moved to Burgess Falls Park. Problems with the state Budget threaten this park, as well as many others. We really enjoy this location and will continue to use it in the foreseeable future if it is available.

The second event is the Family Christmas Dinner. We started out celebrating Christmas at Granny and Grampa's home. After they passed away we met at the home of a different family each year. Now, on a set weekend in December, we meet at the Baxter City Hall in the Community Room.. We have a pot luck dinner provided by some of the best cooks around. Each family has a specialty and we look forward to it every year. We enjoy catching up on family news and events. And we take tons of pictures, just ask anyone!

Family Genealogy

The Family section starts with Samuel L. Alexander my Grandfather's Great Great Grandfather. As with anything constructed by humans, there may be some errors on some of the pages presented here. If you see any or can fill in any gaps or provide new information, please contact us at alexander-update@mike-alexander.net.

Contact us for more information on A. C. Alexander, the 4th of July and Christmas Dinners, or general questions at alexander-info@mike-alexander.net.

Photos courtesy of Clara Alexander